AVTQ in Cross-platform Application Development (Dual VT)
Do you have any questions? fill the form and we will contact you shortly
Sixth Form (bachillerato), Intermediate/Superior Vocational Training or equivalent
Afternoon group: 3 pm – 9:30 pm
Advanced Diploma in Cross-platform Application Development
This is a highly-sought after professional profile in today's job market, where organisations and projects need to develop apps and relevant to their users. Besides working as self-employed professionals, this kind of analyst, programmer and project manager will have the skills and knowledge they need to launch their own business project within a growing sector. Students from Institut Poblenou are highly-valued graduates and some 90% find employment having graduated from this course in cross-platform application development. Students can also choose to take this course part time.
Graduates from this Advanced Vocational Training course in Cross-platform Application Development are equipped with the skills and knowledge they need to develop IT applications, which are designed for both business management or entertainment and information purposes. These professionals are ready to take part in their designs and complete the programming process from start to finish, managing databases and business applications. At Institut Poblenou, students come into contact with the software they'll be using as part of their future job, adapting to the real-life working world as part of a company.
What's more, graduates from this vocational training course will receive a technical diploma that will allow them to access any official university degree, as well as being able to validate the subjects they have already completed and passed. Students will also have access to LPI certificates.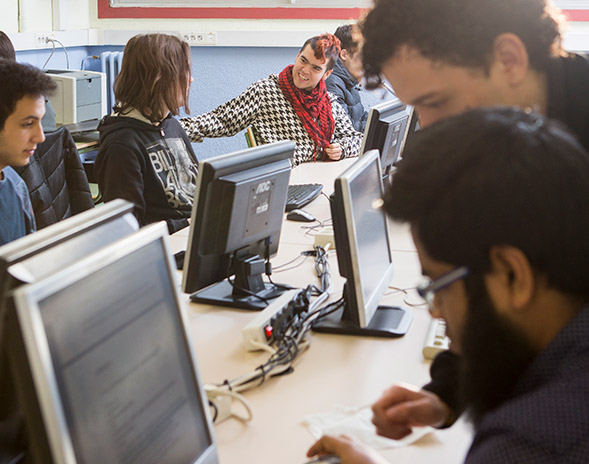 IT application developer for company and business management
IT application developer for general use, mobile apps and the entertainment industry.
Programmer analyst
Programmer
Project manager
What you'll learn. Programme of study
The Advanced Vocational Training course in Cross-platform Application Development is a two-year, 2,000-hour course including 970 hours of practical, in-company work experience if students choose the dual modality, or approximately 500 hours if students choose the OJT modality. Below you can see how the modules are divided over each year and the innovation projects they're involved in.
Programme of study: Year one
Programme of study: Year two

Kick start your future with one click
Want to boost your career with a qualification in Vocational Training or a Training and Grad Programmes? Leave us your details and we'll be happy to help you find the option that best suits you.
El blog del Institut Poblenou
No results found.