Institut Poblenou's educational project
Institut Poblenou's Education Centre Project (PEC) is a document that, in accordance with current legislation and having been approved by the Institute's School Board, sets out the Academic Faculty's contributions, the mission, vision, objectives, characteristics, organisational structure, lines of action, progress indicators and the linguistic project that serve as a road map for the future of this education centre and represent this Institute's commitment to society.
This document will be reviewed periodically at the discretion of the governing bodies given the social and environmental circumstances and in accordance with current legislation.
Mission: to provide students with professional, high-quality education that will allow them to graduate and successfully integrate into society as active members of the professional fields that define our centre.
Vision: we want to be a centre committed to people and quality education. We aspire to be an innovative centre, specialised in new technologies and foreign languages, open to Europe and collaborating with the productive sector to improve the employability of our future sales, administration and information technology employees.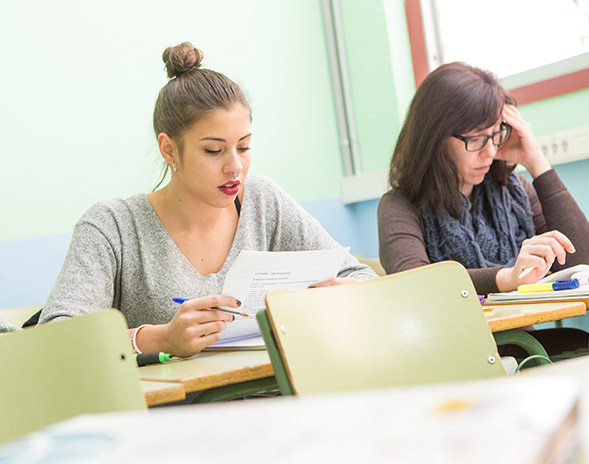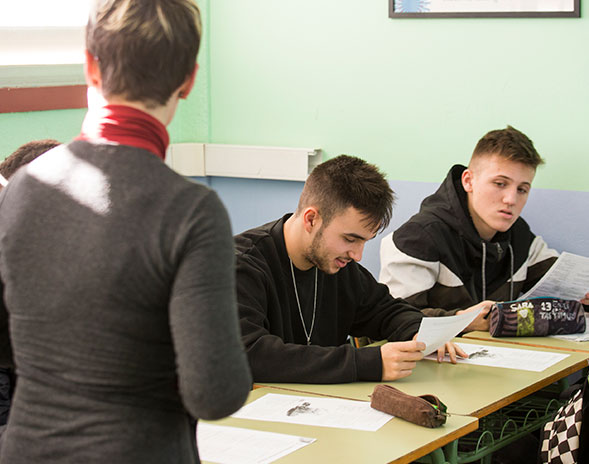 The centre defines itself as inclusive, secular and respectful of plurality, typical characteristics of public education institutes in Catalonia (Article 93, Law on Education of Catalonia). We aim for Institut Poblenou students to graduate with the following assets:
● Flexibility and adaptation to change
● Professionalism, understood as the acquisition of skills and experiences that will allow the student to carry out their work independently, carefully and with quality, meeting the expectations expected of a professional in the sector. Maturity, involvement, rigor, effort and knowing how to be are understood as key elements for the acquisition of professionalism.
● Respect in coexistence and personal relationships
● Teamwork
● Social responsibility, understood as the execution of work with respect towards the internal (co-workers) and external (community and environment) environment, being aware of the impact that the individual produces on the functioning of society.
Institut Poblenou is a public professional education centre that forms part of the city of Barcelona's public education centre network, which is managed by the Barcelona Education Consortium. At the end of the 2006/2007 academic year, Institut Poblenou made an important decision to stop offering secondary school and sixth form education, and to begin their transformation towards becoming a centre exclusively for professional students of Sales and Marketing, Business Administration and Finance and Information and Communications Technology. That fact that we only offer Vocational Training has allowed us to focus on providing quality professional education and rehabilitate, condition and equip our space to suit the vocational training qualifications in the above professional fields.
Committed to quality in education management, Institut Poblenou has designed a management system based on the ISO 9001-2008 standard, a system which in April 2011 was certified by the company Applus+. Year after year we follow up the re-certification of our system using the corresponding audits to continuously improve our educational offer.
Institut Poblenou forms part of a diverse setting; whilst our intermediate vocational training courses are attended mainly by students from nearby centres, as well as students from Institut Poblenou's Entry-Level Training Programmes (ETP) who wish to continue their training, students that apply to our advanced vocational training courses come from different neighbourhoods in Barcelona, and sometimes from the surrounding regions.
The Institute is located in the 22@ district, an area that Barcelona City Council has transformed into an impressive business hub specialising in different fields of technology, research and business. As an education centre that produces qualified professionals, Institut Poblenou values this proximity as an opportunity for our students (work experience, work and allied establishments), our teaching staff (collaborating with businesses) and also for the companies (in close proximity to qualified professionals, training for their employees, collaborations, etc.).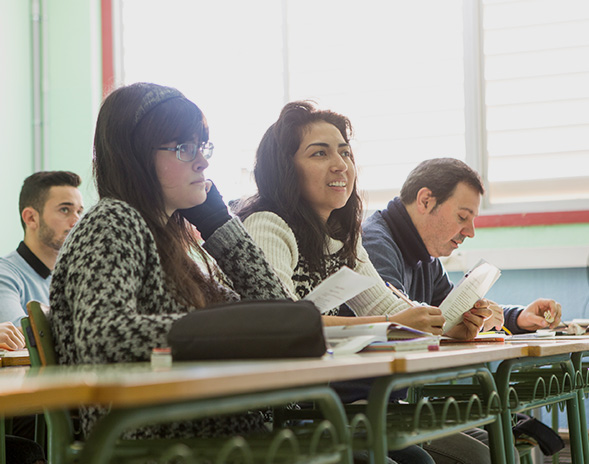 Organisation Standards
and How the Centre Works
The centre's organisational and operational standards (OOS) represent the set of organisational and operational agreements and decisions that make education and management possible, with a view to achieving the objectives set out in the educational project and the annual programme. These regulations have been approved by the school board and have as a regulatory framework the Law 12/2009 of Education of Catalonia (LEC) of 10 July, and the Decree 102/2010 of 3 August on the autonomy of education centres.

Kick start your future with one click
Want to boost your career with a qualification in Vocational Training or a Training and Grad Programmes? Leave us your details and we'll be happy to help you find the option that best suits you.
El blog del Institut Poblenou
No results found.