Institut Poblenou Student Association
The Institut Pobelou's Student Association was created with the aim of strengthening the link between the centre, its current and former students. We want to establish a long-lasting relationship with you, both whilst you're studying with us and once you've graduated.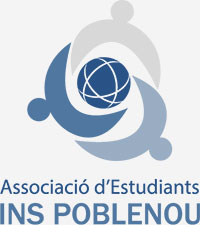 By means of this association, Poblenou Institut hopes to:
Bring current students closer to the association through recreational and educational events
(talks on relevant subjects that interest our community, talks by former students, etc.)
Send former students information we receive from young graduates looking for work:
job offers, grants, youth and social programmes, directed specifically at graduates.
Understand the needs of our recent graduates in order to serve and respond:
(language learning, vocational guidance, specific training for graduates from each course, etc.)
Join the association
We want to encourage you to join and enjoy all the benefits we offer now and will offer in the future.
The association is run by a group of volunteer students who collaborate with the Institute's directors and teachers. It offers different kinds of services to all its members, as well as listening to their needs and proposals.

Kick start your future with one click
Want to boost your career with a qualification in Vocational Training or a Training and Grad Programmes? Leave us your details and we'll be happy to help you find the option that best suits you.
El blog del Institut Poblenou
No results found.