IVTQ in Administrative Management (Dual VT)
Do you have any questions? fill the form and we will contact you shortly
Secondary School Education (E.S.O.) or equivalent
Morning group: 8 am – 2:30 pm
Technical Diploma in Administrative Management
Administration professionals are indispensable members of any business or organisation, regardless of their speciality, size or whether they are a public or private company. The work of an administrative assistant is essential to ensure the optimum functioning of the entire office and to guarantee meticulous management. As such, graduates will be highly sought-after professionals, able to work in a variety of fields.
Graduates from this intermediate vocational training qualification are qualified to carry out administrative support roles in professional environments, includes those that deal with accounting, sales, finance and tax. They will also be qualified to provide optimal user or customer care in both the public and private sector. They will understand how to apply current regulations and quality protocol, as well as follow occupational risk prevention and environmental protection standards.
Graduates from this vocational training course will obtain a diploma they can use to access an advanced vocational training qualification from the same professional field and any other AVTQ having passed the entrance exam to these courses.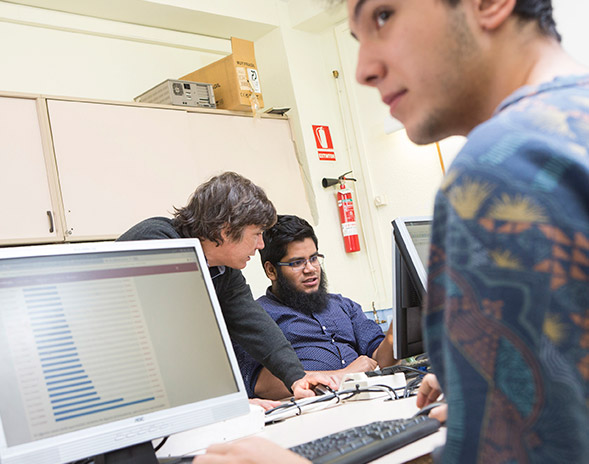 Administrative assistant
Administrative assistant for collections and payments
Sales administrator
Administrative human resources assistant
Administrative assistant for government bodies
Receptionist
Customer service assistant
Treasurer
Payment method personnel
What you'll learn. Programme of study
The intermediate vocational training qualification is a two-year course consisting of a total of 2,000 hours, which include 970 hours of practical work experience in a company if students choose the dual modality option, and approximately 500 hours of work experience is students choose the OJT modality. Below you can see how the modules are divided in each course and the innovation projects they're involved in.
Programme of study Year one
Programme of study Year two

Kick start your future with one click
Want to boost your career with a qualification in Vocational Training or a Training and Grad Programmes? Leave us your details and we'll be happy to help you find the option that best suits you.
El blog del Institut Poblenou
No results found.