IVTQ in Microcomputer Systems and Networks (Dual VT)
Do you have any questions? fill the form and we will contact you shortly
Secondary School Education (E.S.O.) or equivalent
Morning group: 8 am – 2:30 pm
Afternoon group: 3 pm – 9:30 pm
Technical Diploma in Microcomputer Systems and Networks
This is an increasingly sought-after technical profile due to the needs of today's organisations. These versatile specialists are qualified to work in companies that provide IT services and those that require an in-house specialist who can keep their systems and networks running smoothly. Students from Institut Poblenou are highly valued by the companies in which they perform their work experience, they learn to use the hardware and software that will become indispensable in their future job and are highly employable when they enter the job market.
Graduates from this Intermediate Vocational Training course in Microcomputer Systems and Networks are qualified to install, set up and carry out maintenance on microcomputer systems, both for individual-users and networks, as well as local networks. This professional can also work in the sale and repair of these kinds of systems.
What's more, graduates from this course will be awarded a technical diploma that will allow them to access any advanced vocational training qualification from the same professional field, any other AVTQ having passed its entrance exam, as well as sixth form education (bachillerato). Students will also have the chance to obtain CISCO Networking Academy's Cisco Certified Network Associate (CCNA) certification with the new CCNA curriculum, as well as LPI certificates.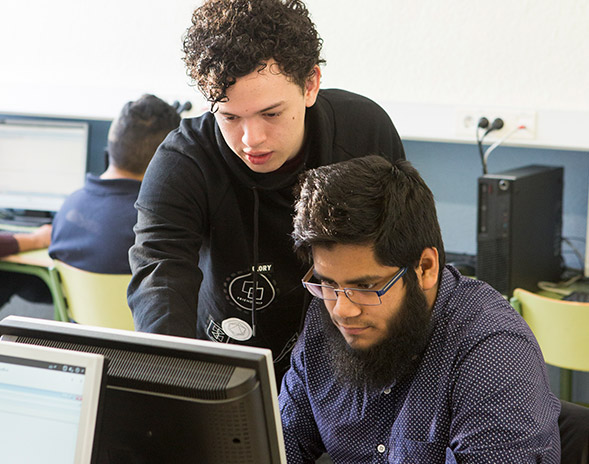 IT maintenance specialist in single and multiple-user environments
Internet services maintenance specialist
Local network maintenance specialist
ICT sales specialist for industrial sectors
What you'll learn. Programme of study
This Intermediate Vocational Training Qualification in Microcomputer Systems and Networks is a two-year course consisting of 2,000 hours of study, including 970 hours of practical, in-company work experience if students choose the dual modality, or approximately 500 hours of practical work experience if students choose the OJT modality. Below you can see how the modules are divided over each year and the innovation projects they're involved in.
Programme of study: Year one
Programme of study: Year two

Kick start your future with one click
Want to boost your career with a qualification in Vocational Training or a Training and Grad Programmes? Leave us your details and we'll be happy to help you find the option that best suits you.
El blog del Institut Poblenou
No results found.