IVTQ Food Product Marketing (Dual VT)
Do you have any questions? fill the form and we will contact you shortly
Start date: 14 September 2020
Secondary School Education (E.S.O.) or equivalent
Monday to Friday
September to March: 3 pm – 9:30 pm
March to May (at EHTB): 8 am – 2:30 pm
Technical Diploma in Food Product Sales
This Technical Diploma in Food Product Sales will equip students with the skills they need to work as specialists in the management, supervision and analysis of all processes related to the launch of a small food business. They will also be qualified to manage logistics, handling, preservation and commercial and marketing aspects of any company dedicated to the food industry, whilst adhering to current quality regulations and protocols, occupational risk prevention and food safety and hygiene.
Graduates from this Technical Diploma in Food Product Sales will be qualified to work in any food-related company, from small businesses to superstores, whether they are brick-and-mortar establishments or online shops, working for themselves or for another company.
In order to gain access to this course, applicants must first pass the selection process led by the companies that offer the practical work experience. Some request that applicants are at least 18 years old when they come to start the work experience placement.
Graduates from this vocational training course will obtain a technical diploma they can use to access sixth form (Spanish bachillerato), an advanced vocational training qualification in the same professional field, or any other AVTQ having passed its entrance exam.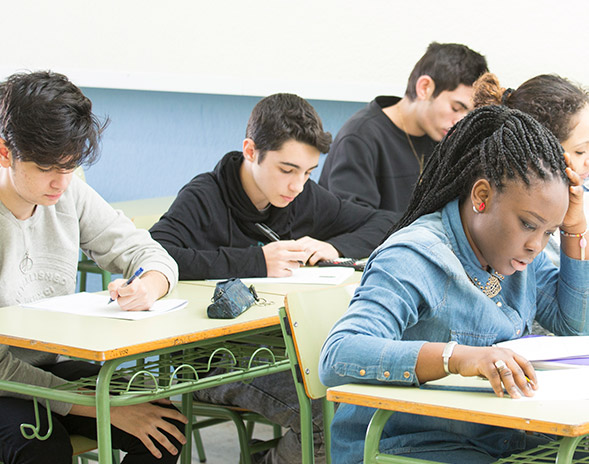 Manager or supervisor of a food store
Manager or supervisor of a section, area or department within a food store
Small food store manager
Manager or supervisor of an online food business
Food sales consultant
Food vendor
Logistics specialist (food warehouses)
Head of receiving and dispatching goods in food stores
What you'll learn. Programme of study
This Technical Diploma in Food Product Sales is a two-year course consisting of 2,000 hours of study, 500 of which will be spent completing practical work experience if students choose the OJT (on-the-job training) modality, and 970 hours if students choose the dual training modality. Below you can see how the modules are divided over each year and the innovation projects they're involved in.
Programme of study: Year one
Programme of study: Year two

Kick start your future with one click
Want to boost your career with a qualification in Vocational Training or a Training and Grad Programmes? Leave us your details and we'll be happy to help you find the option that best suits you.
El blog del Institut Poblenou
No results found.