Training and Entry-Level Employment Programme (TEEP) for:
Sales, Office and Customer Service Assistance
Do you have any questions? fill the form and we will contact you shortly
Over 16 years old and graduated from sixth form (E.S.O.)
Morning group: 8 am – 2:30 pm
Sales, Office and Customer Service Assistance
This Training and Entry-Level Employment Programme is an introduction to the professional field of Sales and Marketing. Students will acquire the knowledge and skills they need to carry out tasks involved in marketing, product and goods storage or data processing roles, whilst adhering to the protocols and necessary brand criteria specific to each case.
This TEEP includes practical work experience in companies, helping students take their first steps into the working world.
Upon completing this programme, participants will receive a COMT0122 Sales Assistant certificate. They will be equipped with the knowledge they need to pass the entrance exams to other vocational training courses, as well as other training centres where adults can complete their secondary education (G.E.S.O.). As such, the programme helps facilitate both the students' entry into employment and continued education and training.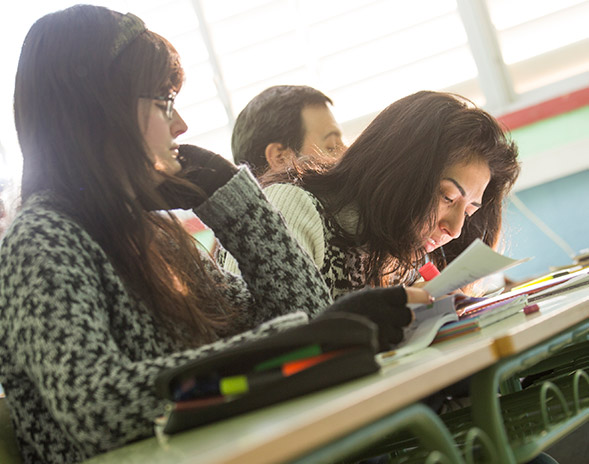 Sales assistant
Information and customer service
Stock replenisher
Administrative sales assistant
Administrative human resources assistant
Telephone operator (call centre)
Cashier
Operator (multi-channel customer service centre)
Administrative accounting assistant
Administrative assistant for Public Administration
What you'll learn. Programme of study
This Training and Entry-Level Employment Programme (TEEP) in Sales, Office and Customer Service Assistance is a one-year course consisting of 1,000 hours, which are divided between 820 hours in the classroom and at least 180 hours of in-company practical work experience. Below you can see which subjects you'll be studying.
Targeted vocational training:
Assistant operations at point-of-sale
Order preparation
Basic customer care
Basic administrative techniques
Basic communication operations
Reproduction and archiving
General training
Guidance and resources for personal development
Knowledge of the social setting and the professional working world
Languages, maths and information and communications technology

Kick start your future with one click
Want to boost your career with a qualification in Vocational Training or a Training and Grad Programmes? Leave us your details and we'll be happy to help you find the option that best suits you.
El blog del Institut Poblenou
No results found.